There is nothing to display at this time
Pick Up Your Child's PRESTO Card for Free HSR Travel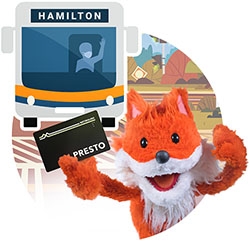 Children ages 6-12 can now travel for FREE on HSR transit with a valid PRESTO card, available from Hamilton Public Library.
Here's How:
Get Your Card
Visit a Hamilton Public Library branch to get your child's free library card and PRESTO card. (Only one PRESTO card per child's library card. While quantities last.) Your child's free PRESTO card from HPL is valid for free travel on HSR until April 30, 2023.
Setup Your Card
Visit one of these locations, as soon as possible, to add your child's birth date to their PRESTO card:
HSR Customer Service Centre at 36 Hunter St. East (GO Station)
City Hall or Municipal Service Centres in Dundas, Ancaster or Stoney Creek
Any Shopper's Drug Mart or Fortinos location in Hamilton
Please bring proof of your child's age, such as a birth certificate or passport.
Children can travel free until their 13th birthday. When your child turns 13, their card can be updated to a youth card by visiting one of the locations above.
Use Your Card
When you board a bus, tap your child's PRESTO card on the PRESTO fare payment device.
Parents and caregivers, if you don't yet have a PRESTO card, you can get one when you visit one of the above locations to set up your child's card. Pay your fare with the free PRESTO E-Tickets mobile app or with exact cash. Children ages 0-5 travel free and don't need a PRESTO card.
Download the PRESTO E-Tickets Mobile app.
For more information, check out the Frequently Asked Questions
Complete a Survey
Your feedback is important. Fill out the survey online or fill out a survey in person for a chance to win $100 in free HSR fare.
Learn more about travelling on HSR
Phone: 905-546-CITY (2489)
Email: hsrserve@hamilton.ca
Online: hamilton.ca/presto
About PRESTO
PRESTO is an easy and safe fare payment system.  It's also the cheapest way to travel on transit in Hamilton and across the region.
Visit prestocard.ca or call 1-877-378-6123 to learn more about PRESTO and to register your child's card.