Valley Park Library branch closing for construction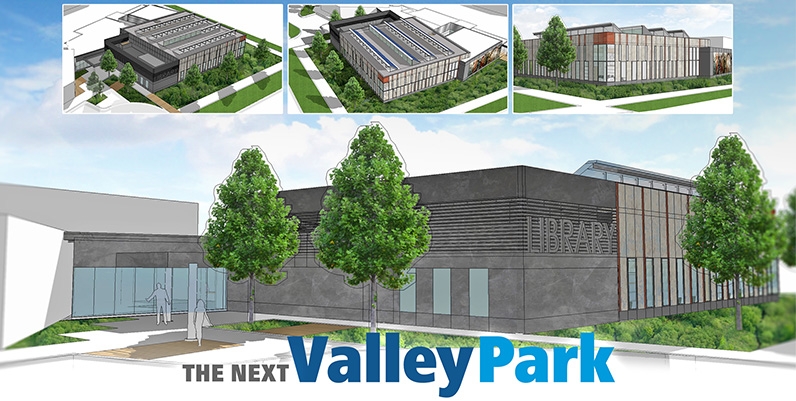 Update November 4, 2019:
During the construction phase, the temporary branch location will be at 1050 Paramount Drive, Unit #12, Stoney Creek.
Stay tuned for opening date information as it becomes available.
Starting Fall 2019, the Valley Park Community and Aquatic Centre is closed for renovations. The renovation project is anticipated to be completed by Fall 2021.
The Valley Park Library Branch remains open until an official closure date is announced. Stay tuned.
Valley Park Community Centre was last renovated in 1990. The mechanical equipment has reached the end of its service time, requiring a renovation to the building and internal workings. The renovations will include:
Expanded recreation programming space;
New reception desk and common areas;
Roofing replacement;
Exterior cladding and block repair;
Pool boiler and pumps;
Arena dehumidifier (No ice season closures anticipated);
Parking lot resurfacing.
The closures include the recreation centre building, including indoor pool, and parking lot. The arena will remain open to the public at this time. The project was aligned with the new Valley Park Public Library branch expansion in order to reduce closure times for the community and maximize construction opportunities.
The Valley Park Public Library Branch will remain open until Fall 2019. Construction work on the new library is expected to be complete by fall 2021. A library materials drop box will be available for customers to return items while the new branch is constructed. The Hamilton Public Library is exploring options for a temporary location to continue library services during construction.
The following neighbouring recreation centres have increased programming to accommodate swim lessons and recreational program activities during the closure:
Hill Park Recreation Centre – 305 Southbend Rd. E., Hamilton
Huntington Park Recreation Centre – 87 Brentwood Dr., Hamilton
Sir Wilfrid Laurier Recreation Centre – 60 Albright Rd., Hamilton
Library customers are invited to access library services and materials by visiting other area branch locations during construction:
Turner Park Branch – 352 Rymal Rd. E., Hamilton
Red Hill Branch – 695 Queenston Rd., Hamilton
Sherwood Branch – 467 Upper Ottawa St., Hamilton
Additional Resources
City of Hamilton Recreation Facilities and Programs
Quotes
"Valley Park Recreation Centre is one of the City of Hamilton's busiest recreation centres. The closure in the fall is necessary to complete lifecycle repairs and to update the facility to ensure recreation programming will continue for years to come."
Chris Herstek
Director, Recreation
City of Hamilton
"We're very excited to break ground on our new Valley Park Branch this fall. This is a vibrant, growing community and this new building – with its beautiful reading courtyard and modern programming spaces – will be a gathering space for all to come together to discover, learn and share."
Paul Takala
Chief Librarian
Hamilton Public Library